Thursday 2nd May 2013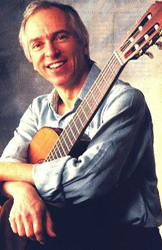 A rare opportunity to see John perform solo in the lovely St Mary's Church. Following his visit in 2012 with John Etheridge, John asked to return here for a solo date saying the church is one of his favourite venues to play in.
John Williams is a legendary classical guitar maestro whose repertoire ranges from the standard Baroque and Spanish classics to more innovative contemporary works. John Williams is a foremost ambassador of the guitar. Born in Melbourne, Australia, he was taught the instrument by his father and went on to study music at the Royal College of Music in London. He has since toured many countries playing solo and with orchestras. He has also appeared regularly on radio and television – and, of course, his music is familiar to many filmgoers, most notably The Deerhunter (Cavatina). He has collaborated with many outstanding musicians, including Julian Bream, Itzhak Perlman, Andre Previn, Cleo Laine, John Dankworth and John Etheridge.